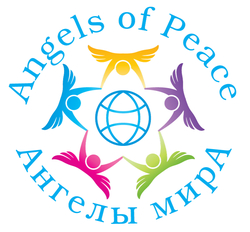 Children's dancing and singing ensemble «Angels of Peace» was created in 2008 by Mrs. Olga Vakulinskaya, president of Regional Social organization "Women's Federation for World Peace".
Women's Federation for World Peace in Moscow has three main directions of activities: intercultural projects, moral and family education and charity projects for people in need.
This ensemble «Angels of Peace» was created with the purpose to educate children as loving and caring people who can serve the society. That's why the main focus has been to take part in charity and socially significant projects.
During 8 years of existence the Ensemble took part in many peace-making projects and projects promoting moral and family values like:
Bridge of Peace «Russia-Georgia» in cooperation with Georgian Union of Russia
Bridge of Peace «Russia-Belarus» in Vitebsk, Belarus in cooperation with Peace Fond of Belarus
Bridge of peace and friendship "Russia-Azerbaijan" in cooperation with the Centre of Azerbaijan and Russian Culture and Solidarity
The annual Intercultural family contest «Family World» in the Central House of Cultural Workers
Cultural program «The corner of Russia" in the Public chamber of Russian Federation
Intercultural children's Festival "Children are Angels of peace"
The exhibition of Orthodox temples "From repentance to resurrection"
Intercultural Festival «Russia Pervozdannaya" in Central House of artists
Mother's Day concerts in the House of nationalities and Moscow House of NGOs
Many concerts for disabled children and adults and children without parents (for example in the children's rehabilitation centres, Blind people societies and orphanages)
Many concerts for elderly people and war veterans (Social House in Maryino, House for Veterans "Konkovo", different Centres of Social care and Councils of War Veterans)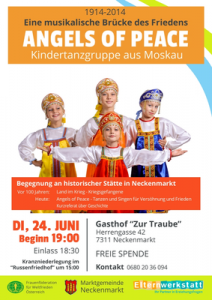 In 2012 the ensemble took part in an International Talent Festival in South Korea and received a golden prize. At that time, the children were also invited to a famous Little Angels School and had a beautiful Bridge of Peace ceremony between two ensembles.
In June 2014 Angels of Peace held a Peace tour in 5 cities of Austria. 2014 was a special year for Russia and Austria because 100 years ago World War I started.
Angels of peace gave performances in 5 cities: in Graz, Neckenmarkt, Linz, Vienna and in Wals, Siezenheim, near Salzburg. Official greetings were given by the Salzburg Russian General Consul Sergei Smirnov.
If we go on some trip parents usually pay for the children's tickets and buy costumes. We usually take one manager, 2 teachers and some parents who can help to take care of children during the trip.
Most children in the ensemble come from large families.
Contact information: the founder and art director of the ensemble Mrs. Olga Vakulinskaya +7(926)7170747, vakulinsky@mail.ru
News